Brand Name: delilah – Pronounced "de-lie-lah" (always with a little d)
Founded: United Kingdom, by Rupert Kingston, Hannah Nicholson and Juliet White.
What makes them special: The idea to build a boutique make-up company and help a client create an image of them selves where they feel confident and beautiful, with ease and high end products.
Iron oxides (colour pigments)
Talcum (powder)
Sodium dehydroacetate (cosmetic preservative)
T

ocopheryl acetate

(

Vitamin E)
Butylene glycol (solvent)
Potassium sorbate (natural preservative)

Z

inc stearate (soap)
" born out of friendship, a passion for cosmetics, and the desire to help women of all ages to look and feel beautiful."
– Rupert Kingston
The delilah Story
The name Delilah derives from Hebrew language and translate to; A seductive and wily temptress. A strong, beautiful and independent woman. Many songs have been written about women called Delilah and are always portrayed as these incredible untouchable woman. Some examples of this include the famous Tom Jones record- Delilah and The Plain White T's- Hey there Delilah.
Delilah has been established on the idea that boutique make up brands are very few far and between. Rupert, Hannah and Juliet designed the range in a very unique way to ensure all the products work together making for perfection every time with ease whilst adding real value using the rose gold packaging and a rose symbol, a true icon of British beauty.
Since their launch in 2014 Delilah have made a massive impact on the beauty industry with features in The New York Times and Rolling Stone.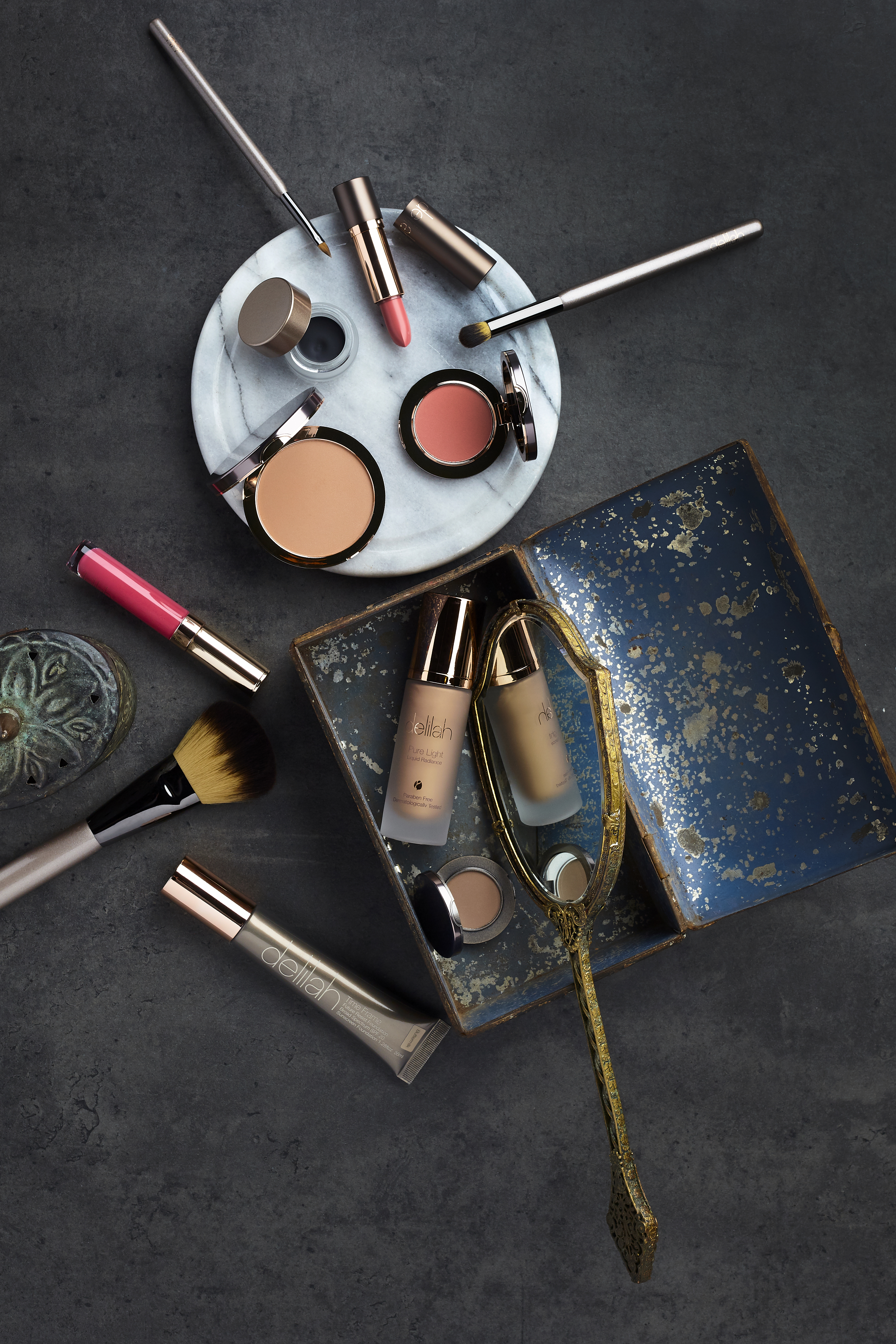 Here is a little bit more about those hero products:
Pure Light Liquid Radiance £32
This liquid radiance to the perfect addition to your make up routine. To add a popping radiant glow to your make up. The true beauty of this, is that it can be used on clear skin, on top of foundation primer or for a more intense radiance glow it can be applied as a highlighter.
It's the prefect "pick me up" throughout the day and ideal for hand bags, overnight bags and travelling.
Brow Shape Defining Brow Gel £18
Straight, rounded, arched, steep arch, s-shaped and wow brows. No matter how much time and effort go into drawing on eyebrows, they will always be the make or break to your flawless make up.
This brow gel is designed for those that have a good brow shape and do not necessarily want a statement brow. This slightly tinted gel will create hair like stokes in areas where the brow ins more sparse. As it is smug proof, your brows are sure to stay looking "on fleek" all day.
Sunset Compact Matte Bronzer £34
A compact bronzer with mirror is always a must have on your dressing table, hand bag and even in your office draw as you never know when you might like a top up and this compact matte bronzer is definitely something to get excited about.
Firstly, the magnetic lid makes for a satisfying open and close every time you use it. It is sure to make your friends and work colleagues wanting to borrow it.
This bronzer is available in a light/medium and medium/dark, to suit your skin colour. The powder itself is light and does not leave that dusting all over clothing. It really is the perfect bronzer.